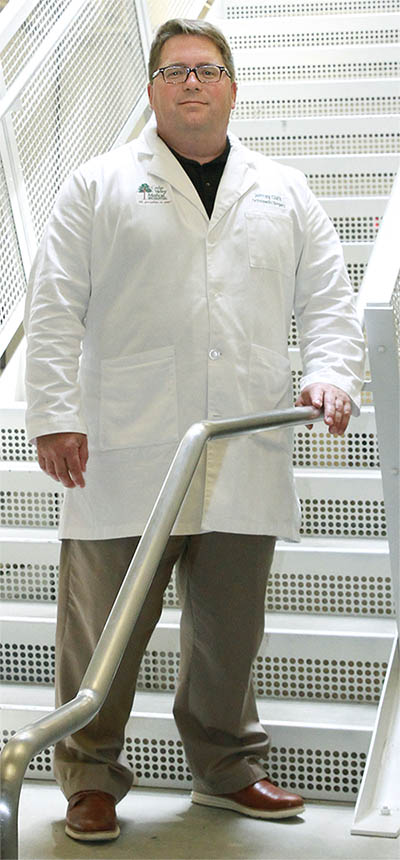 MEET DR. CLARK
Dr. Clark maintains a busy orthopedic practice focused on enabling patients to overcome their physical challenges—whether they are related to injury or the aging process. In private practice since 2000, Dr. Clark has been at the forefront of hip and knee arthroplasty innovation. One of the first adopters of the direct anterior approach to total hip replacement in the Midwest, he has focused on less-invasive surgical techniques, as well as robotic knee replacement. Among the first to perform MAKOplasty, a partial knee replacement technique that involves a robotic arm, in his home state of Iowa, Dr. Clark has extensive experience in joint care. With a special interest in advanced surgical outcome metrics and rapid recovery protocols, Dr. Clark has become a leader in the UnityPoint health-care system in patient length-of-stay, typically discharging his joint patients either the same day or the next day following surgery.
Beginning with his residency at Michigan State University and continuing at the University of Northern Iowa, Dr. Clark has been treating Division I athletes for over two decades, including numerous All-Americans and some who compete currently at the professional level in football and basketball. An expert in sports-related injuries, Dr. Clark has been on the sidelines for more than 500 Division I football, basketball, and wrestling competitions, serving as the Team Physician for the University of Northern Iowa and Wartburg College since 2000.
Highly competitive by nature, Dr. Clark has an intense passion for helping his patients to overcome their injuries or impairments and reach their individual victories.
---
Curriculum Vitae
Jeffrey Alan Clark, DO
EDUCATION
Fellowship – A.O. International Trauma Fellowship; Humboldt University, Berlin, Germany
2000 Residency (Orthopedic Surgery) – Michigan State University
Garden City Hospital, Lansing, MI
(Pediatric Orthopedics) Children's Hospital of New Orleans, New Orleans, LA
(Trauma and Joint Arthroplasty) Florida Orthopedic Institute, Tampa General Hospital, Tampa, FL
1996 Internship (Rotating) – Michigan Capital Regional Medical Center
1995 DO – Des Moines University
1989 B.A. – Beta Beta Beta, Mortar Board Society, Football Letter-winner (Economics & Business), Cornell College
BOARD CERTIFICATIONS
2013 Recertified – American Osteopathic Board of Orthopedic Surgery (Passed first examination)
2003 Clinical – A.O.B.O.S. – Passed first examination
2001 Oral – A.O.B.O.S. – Passed first examination
2000 Written – A.O.B.O.S. – Passed first examination
PUBLICATIONS
2002 – Clark, J.A. and Bremner, B.R.B.; "Fatal Warfarin-Induced Skin Necrosis After Total Hip Arthroplasty." Journal of Arthroplasty.
COMMITTEE MEMBERSHIPS AND APPOINTMENTS
Chief of Surgery – UnityPoint-Allen Hospital
Chief of Orthopedics – UnityPoint-Allen Hospital
Head Team Orthopedic Surgeon – Wartburg College
Orthopedic Surgeon, All Sports – University of Northern Iowa
Oral Examiner – American Osteopathic Board of Orthopedic Surgery
TEACHING
Adjunct Assistant Professor of Orthopedics – Des Moines University
1995-2000 – Clinical Instructor, Orthopedics – Michigan State University
Guest Lecturer – University of Northern Iowa Athletic Training
PROFESSIONAL MEMBERSHIPS
American Osteopathic Academy of Orthopaedics (A.O.A.O.)
American Osteopathic Association (A.O.A.)
AO Alumni Association (A.O.A.A.)
Iowa Orthopaedic Society
PROFESSIONAL INTERESTS
Direct anterior approach to total hip replacement
Less-invasive knee replacement surgery
Rapid recovery protocols
Orthopedic sports medicine
Knee and shoulder arthroscopy
PRACTICING SINCE
2000
---